Enchanting pedestals are located in all churches, next to the Fira and Alexandria fountains, Inside the Arcane temple inside the Mages Guild, and in the player's House after reaching Housing level 20.
Enchant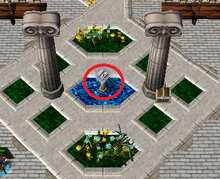 The Enchanting Pedestal is used to enchant items, usually with Prasinus, Rubra, Caeruleus, and Potentia stones. This usually adds stat bonuses and other effects to the base stats. Sometimes you can obtain unique items through enchantment.
Train Speechcraft
The player can use them to consume all Prasinus Stone, Rubra Stone, and Caeruleus Stone in their inventory for 25 Speechcraft EXP each, or Potentia Stones for 75 Speechcraft EXP each.
Ad blocker interference detected!
Wikia is a free-to-use site that makes money from advertising. We have a modified experience for viewers using ad blockers

Wikia is not accessible if you've made further modifications. Remove the custom ad blocker rule(s) and the page will load as expected.