Gem of Time
Req. Level
50
Req. Attribute
1000 Int
Description

Only a true master of their willpower and intelligence can even hope to comprehend this power.

Stats

+1000 Intelligence
+2000 Mana

Abilities

Aura of Time: Slows nearby enemy non Hero units by 25%

Bonuses

Super Firebolt: +7500 Damage Bonus

Quest

1000 Intelligence
When you achieve 2400 Intelligence travel to the Ice Crown Temple and search for the Grand Ice Crystal within.
How to Obtain
Summon from obelisk in Northern Mountains. You must have 1000 base Intelligence stat to use. Located South-east of the Musician blocked by Ice.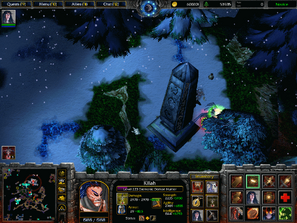 Quest
Follow this quest to get the Gem of Eternity.
Fusions
Golden Boots + Excalibur + Gem of Time + Fusion Stone = Ring of the Three