Lazar


Level
125
Type
Ice Temple Boss
HP
855,200
Mana
9800
Strength
2360+400 = 2760
Agility
3008+400 = 3408
Intelligence
4500+400 = 4900
Primary Attribute
Intelligence
Damage
4501+850 = 5351
Armor
155+74 = 229
Attack Type
Elemental
Armor Type
Magical
Attack Range
400
Move Speed
300
Abilities

Bash
Mirror Image
Breath of Frost
Banish
Critical Strike
Evasion

Items
Buffs
Drops
Strategy
Lazar creates a mirror image of himself up constantly, and it can be difficult to tell the difference unless you're dealing significant damage. Keep attacking whichever image is closest to you if you can't tell.
Bugs
Lazar sometimes teleports onto the waterfall on the west side of the room, and will not get out. He can still be killed by ranged attacks. Use the Hunting skill Reveal to see him.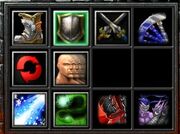 Ad blocker interference detected!
Wikia is a free-to-use site that makes money from advertising. We have a modified experience for viewers using ad blockers

Wikia is not accessible if you've made further modifications. Remove the custom ad blocker rule(s) and the page will load as expected.