The Evolved version of the Assassin.
Shadowblade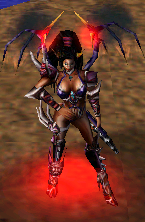 Strength: 15+10 (4005 max)
Agility: 41+17 (6824 max)
Intelligence: 9+9 (3600 max)
Life: 1960
Mana: 18
Starting damage: 122
ROLES: Melee DPS, Stealth
Skills
In Progess
Housing
The Shadowblade's House location is south of the Temple of Seven.
CLASS ITEMS
Bralic (level 350 req) (Ultimate)
Ad blocker interference detected!
Wikia is a free-to-use site that makes money from advertising. We have a modified experience for viewers using ad blockers

Wikia is not accessible if you've made further modifications. Remove the custom ad blocker rule(s) and the page will load as expected.