The Undead Daemonic is the Evolved form of the Necromancer.
"Criron: The Dead and I are becoming one. I shall Emerge more powerful than ever! Although long ago I was a general in Hells Armies who swore against the light, I will help the Angel and destroy the Lord of Terror... Then I will take my place as ruler of the undead."
Undead Daemonic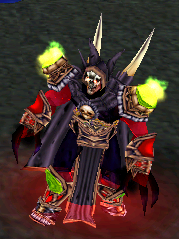 Strength: 13+7 (3205 max)
Agility: 18+10 (4008 max)
Intelligence: 33+17 (6816 max)
Starting Life: 1635
Starting Mana: 66 
Starting damage: 104
ROLES: Caster, Summons, Debuffs
Skills
SOULESS WAVE
Summon the powers of the undead to blast away your opponents into oblivion.
DAMAGE FORMULA: (1000 x Ability) + (Intelligence x 2)
ARMY OF THE DEAD
Raises undead minions to fight for the necromancer. Higher levels will increase the amount and the power of the summoned units.
PORTAL OF THE UNDERWORLD
The Undead Hero summons a portal from beneath the ground. The portal will release souls from the underworld raining upon their enemies in three waves of death.
DAMAGE FORMULA PER WAVE: (500 x Ability) + (Intelligence)
Undead Feast
Cast undead magic at a single target dealing damage. Targets through spell immunes.
DAMAGE FORMULA: (1000 x Ability) + (Intelligence x 2)
DAMAGE TYPE: Hero
Daemonic Undead Gifts
The Undead Daemonic Walks this land cursed by his desires of death and decay. His powers grows equal with his ties to the undead.
LEVEL 1:
In progress.
Housing
The Undead Deamonic's House location is in the Ramoria Graveyard.
 CLASS ITEMS
Shadric (level 350 req) (Ultimate) 
BUGS
As of v6.08 His necrox summon is supposed to scale with his level and stats, but it is always stuck at level 1. (fixed)